Featured Russian Artist
See also: Yuri Vnodchenko, Dmitri Baltermants, Nikolai Dmitrevich Chernushkin, Vladimir V. Sizov
Fine art oil paintings for sale by Paulina Komolova.
Paulina Komolova is this month's "Featured Russian Artist" at L.P. Cline Gallery. Paulina is the wife of Vasily Komolov, both highly collected Russian artists in the United States. In fact, they are considered two of the all-time greats in Impressionism painting from the Voronezh region of Russia.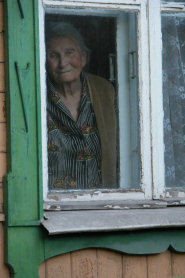 Paulina Komolova is 91 years young — young in spirit and in heart. We were privileged to meet with her on two occasions in August and September of 2006.
We will never be able to express the feelings we had as we walked into her home, music playing, paintings on the walls (so beautiful you could cry), and the most beautiful smile on her face as she welcomed us.
Her words trailed along melodiously as she told of her life and how at the age of six she was captivated by the dress of the women at the Collective Farm where she and her family had been sent. She told of how as many as 12 layers of skirt might be worn by the women. She began to sketch the people and the clothing they wore. This was the beginning of painting life in Russia as she lived it.
We look forward to your visit to our gallery so we can share in detail our visit with Paulina in her home.
Click here to see more paintings by this featured Russian artist.
Learn more about Paulina Komolova in this feature article from the April 2007 edition of Chattanooga's "In the City" magazine, by Heather Bateman. (Reprinted with Permission.).
See also: Yuri Vnodchenko, Dmitri Baltermants, Nikolai Dmitrevich Chernushkin, Vladimir V. Sizov