About Russian Icons
Early Russian painting was one of the most significant achievements of national art and culture. The first icons were painted in the country more than a thousand years ago, after Prince Vladimir converted to Orthodox Christianity. There was not a village in Russia without a church or at least a chapel. A major part of religious practice placed icons in the highest places of honor in early Russian churches. Orthodox theologians believed that icons, with their symbolic content, were to illustrate the Liturgy and portray the Holy Scripture adding details to make the Gospels more understandable.
Every house and all rooms in it had holy icons in their best part, called the "beautiful corner." The rules for managing your home in the 16th century called the Domostroy called for all Christians to have holy images in every room, to embellish them and set up candle-holders to light candles during prayers. You must clean them and wash them, keep the room tidy and only touch the icons when your conscience was spotless. Icons were sometimes screened by draperies, so that the saints they portrayed could not "see" sins of this world.
Novgorod icons are perhaps the most famous in all of old Russian art. St. George, shown on our page, is attributed to the Novgorod period of 1100-1130. The oldest icon in the Kremlin collection is that of St. George 11th, 12th century.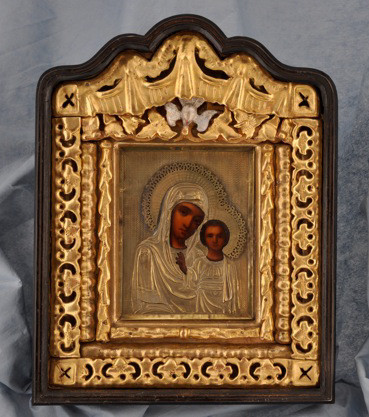 Title:
Kazanskaya, The Mother of God
Date:
1880-1890
Size:
18" x 14"
Gold Leaf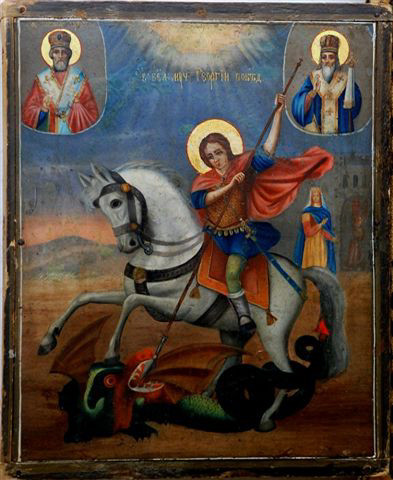 Title:
St. George and The Dragon
Date:
Late 19th Century
Size:
9" x 10.5"
Oil on Wood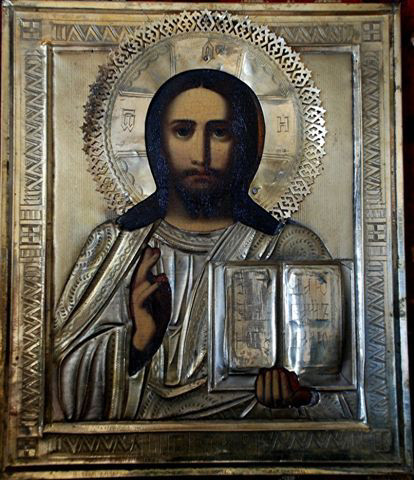 Title:
Pantocrator
Date:
Early 20th Century
Size:
10.5" x 12.5"
Embossed brass over wood