These Russian Lacquer Boxes are Amazing
They're absolutely the very finest available.
Russian Lacquer Boxes are made from an art form known as Papier-Mache, a type of cardboard that is made from layers of glued paper boiled in linseed oil and then carefully dried and primed.
Please visit our Fedoskino and Palekh pages to see our complete collection of beautiful Russian Lacquer Boxes. These boxes are perhaps the most cherished and collected pieces of art from the 18th and 19th centuries, just as they are cherished and collected today.
And, if you're a newcomer to this extraordinary art form, you'll be amazed when you learn that every line painted onto every lacquer box, every brush stroke, and every minute detail, is painstakingly done by hand by highly skilled artisans who have worked a lifetime to master this skill. Our Russian Lacquer boxes are truly the best there are, and we're confident you'll appreciate the level of quality provided by our Gallery.
The authenticity of our Russian Lacquer Boxes is guaranteed!
See our Fedoskino and Palekh lacquer boxes.
About Russian Icons
Did you know that the first Russian icons were painted in the country more than a thousand years ago?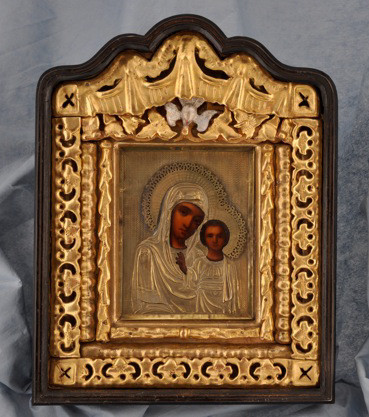 Every house and all rooms in it had holy Russian Icons in their best part, called the "beautiful corner." The rules for managing your home in the 16th century called the Domostroy called for all Christians to have holy images in every room, to embellish them and set up candle-holders to light candles during prayers. You must clean them and wash them, keep the room tidy and only touch the icons when your conscience was spotless.
Icons were sometimes screened by draperies, so that the saints they portrayed could not "see" sins of this world.
Read more about Russian Icons.