Paulina Komolova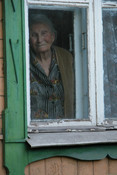 Paulina Komolova was born july 23,1916, in the settlement of Krasnoe of the Panin district of the Voronezh region. In 1929-1930 she studied the Art of Russia in the Armavir School of painting and drawing which was untied later with the Rostov Art School, Paulina komolova graduated from the Art School of Rostov-na-donu in 1930. She entered the MNoscow Textile Institute in 1938. Petr Petrovich Konchalovski was her teacher of painting and drawing at the institute during three years of study. Also, Paulina Komolova was a friend of the Konchalovski family and was engaged in the private studio of Petr Konchalovski. Her studies were interrupted because of the war in 1941. In 1946 paulin Komolova was back to the studies and graduated from the Textile Institute. In 1964 Paulina entered the USSR Artist's union. From 1964 she was a participant in all regional and zonal exhibitions. Her artworks are in the Voronezh Kramskoy Gallery and Museum. Paulina Komolova the widow of Vasili Kuzmich Komolov. Papulin Komolova lives and works in Voronezh, her passions have been Russian landscape, narative paintings and paintings of the series of Collective Farm.
Sadly our friend passed away in April, 2008. She will be greatly missed by her family and friends in Voronezh and around the world.
"The Surveyor"
Oil on Board
Date: 1961
Size: 20" x 27.5"
Signed in cyrillic on reverse
Framed
Please contact our Gallery for additional
information about this artist.