Viktor Mikhailovich Baranov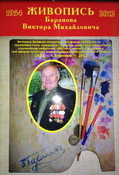 Viktor M. Baranov was born in 1921 in Penza.
Baranov studied at the Penza Art College from 1936-1941.
He was active in Karkov, Ukraine, and Yalta, Crimea.
Viktor began exhibiting in 1942.
Baranov specialized in landscapes and pastel works.
He taught at the Intermediate Schools in Moscow and the House of People's Creativity.
Also a graphic artist.
Viktor Baranov was a highly decorated military veteran in 1941-1945.
Viktor Baranov died in 2012.
"Bullfinches" Winter Birds
Date: 1952
Size: 19.75" x 16"
Pastel on paper on board
Signature in Cyrillic lower left
Please contact our Gallery for additional
information about this artist.