Vasily Kuzmich Komolov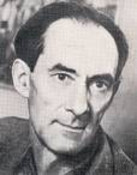 Born in the village of Tavolazhanka, Lipitsky region in 1918, Vasily grew up in a village working family. In 1933 he moved to Tambov in order to attend the art college, where he studied painting and theater design. He graduated in 1937 and moved to Voronezh in 1938.

Vasily was quickly accepted into the art community in Voronezh and was accepted the same year into the Voronezh Artist's Union. He was one of the youngest artists to ever be accepted to the Artist's Union. Most artists work for many years before they are finally elected into the union.

In 1940 Vasily , like all young men in Russia at the time, was drafted into the Red Army. During his service in the Great Patriotic War Vasily was shot in the upper leg, sustaining a wound that would plague him for the rest of his life. He was discharged from the army in 1942 and returned to Voronezh to resume his life as a painter. Soon after his return he married another artist, Paulina, with whom he shared his life until his death at the age of sixty six in 1984.

Vasily participated in all major Russian and Soviet exhibitions. In 1968 the Voronezh Artists' Union gave him a personal exhibition. Few artists have the opportunity to do this. The exhibition included the works that had been commissioned by the Kameney Collective Farm in Kalach, famous for its wheat production. These works are rich in color and brilliant in light. Even though Vasily lived in a time when an artist's creativity was controlled by the central government he found a way to speak in his own voice. He mixed the Socialist Realilsm with Russian Impresssionism in a way that no other artist in the Voronezh Region could. He monumentalized everyday Russian life without a sign of pretension.

His wife Paulina, a successful artist in her own right, has spent her time since his death promoting his life's work. In 1991 an American art publisher and historian of Russian art mamed Vasily as one of the top three hundred artists in the Soviet Union from 1930 to 1990.

Paulina still lives in Voronezh in the same house that she shares with her late husband.

Examples of Komolov's work can also be seen in The Dictionary of Russian and Soviet Painters, written by Matthew Cullerne Bown.
"Skier"
Date: 1949
Size: 11" x 19.75"
Oil on Card
Signature in Cyrillic on reverse
"Cloudy Day"
Date: 1959
Size: 13.75" x 9.75"
Oil on Card
Signature in Cyrillic reverse
Framed
Shura The Milkmaid
Oil on Canvas
Size: 31" x 23"
Date: 1960
On The Summer Meadow
Oil on Card
Date: 1961
Size: 27" x 19.5"
Field Kitchen
Oil on Card
Date: 1962
Size: 27.5" x 20"
Please contact our Gallery for additional
information about this artist.