Nicolai Aleexievich Trunov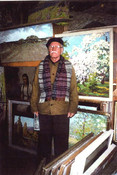 Nicolai A. Trunov was born in 1924 in the village of Nikolskoe in the Voronezh region. At the age of 17 Nicolai A. Trunov became a student at the Voronezh Art College. The college was temporarily closed at the on set of the war and Nicolai moved to Zemliask where he continued to pursue his studies in Russian Art painting.

At one point during the war Nicolai A. Trunov was living in a town that was occupied by the Germans, where he was once ambushed and interrogated by German soldiers on patrol. When they learned he was an artist they asked him to do portraits of them to send back home to their families.

Nicolai A. Turnov was heavily influenced by the French Impressionists, as can be seen from his many beautiful paintings. He is a member of the Russian Artists Union, and his paintings are in permanent collections at the Kromskoi Museum in Voronezh, Russia and the USA.
Nicolai Trunov died April 5, 2009.
"The Korns"
Oil on canvas
Date: 1961
Size: 79" x 48"
Signed in cyrillic lower left corner
Framed
Please contact our Gallery for additional
information about this artist.