L.P. Cline Gallery News & Events
Russia Trip, April-May 2009
I have just returned from Russia on May 2, 2009, after two weeks of incredible joy as well as educational benefits. Because of the dates being celebrations of May Day in Russia, I had to stay in Moscow for extra days to clear paintings. I took this opportunity to visit the Tretyakov, old and new, really giving it the time it so deserves. I spent much time at each painting really taking in the beauty and extraordinary techniques and styles of each of the gifted artist. I feel that what I took away from those visits will make me better at choosing the paintings to bring home to you, our friends and clients.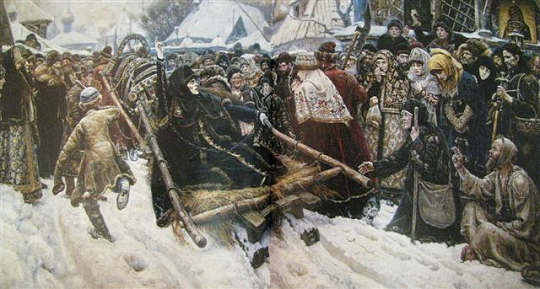 "Boyarynya Morozova" by Vasily Surikov, 1887. Oil on canvas.
One painting that really drew my interest was the Boyarynya Morozova, 1887, by Vasily Surikov (1848-1916), pictured above. The meaning behind the painting is that of Feodosia Prokofiyevna Morozova, who stood against the new rules of the church. You will notice the hand up and the two fingers crossed. The changes from the way the Old Believers had always gone by to crossing at prayers with three fingers is only one of many.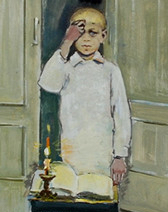 The reformed Orthodox Church believed many errors had been made in the translations earlier. Feodosia P. Morozova and her sister, Princess Evdokia Urusova, were among those who fought for their beliefs and died as a result. Look at the painting by artist Vladimir V. Sizov depicting a little boy at his grandmother's house saying prayers with two fingers crossed. There are many articles refer to the Old Believers. It is a most interesting read. If you have time, check it out.
I was fortunate to find two Russian Icons earlier in the week before arriving in Moscow, and therefore my interest was heightened in that direction. I was able to see the beautiful icon of the Trinity 1420's Moscow, Tempera on panel by Andrey Rublyov (c.1360/1370-1430s). This had been in the Russian papers about moving this piece from the Tretyakov to a church (location and name not known to me).
My companions were most anxious to go and see before this happened because they knew they would probably never get the opportunity to see again. There is much controversy over this. It was an amazing icon and I will never forget that moment. My companions felt that this piece would never be seen by the world after it was removed, and that it belonged to the people. I agreed totally with them.
Also, this was important to visit the new Tretyakov where the 20th c. art is housed because plans are to tear the building down and put up new corporate offices and such. The Tretyakov would be moved to a new place, but could be years before these paintings would be for view. It is the most amazing thing to stand in the middle of so much history and some of it that happened in my lifetime. The beautiful painting by Tatiana Yablonskaya "Sacking Grain" 1949, showing how the women did all of the work in Russia during WW11 is amazing.

"Sacking Grain" by Tatyana Yablonskaya, 1949. Oil on canvas.
There were twenty-seven million Russians who lost their lives during the war. The women held the "Mother-land," as they call their beloved Russia, together. I had always wondered why they have a special day honoring women. It is called simply, Women's Day. I have been there on that day, and everyone stops to congratulate you . They bring flowers and such. I am sure, after understanding the role of the woman during war-times, that is why they have this day. A friend in England who is in her 80s, during a conversation, talked about the American woman not gaining independence or working outside the home until the 1950s, but that the women in England also had to go to work doing jobs that were for only men during the war, and that had changed the face of the British woman as well.
Referring back to the problems with clearing paintings, hopefully some changes will be made next year to help not only people like us, but just in general to help the artist out in the distant rural areas. It has restricted sales of the artist because of the difficulty in clearing their paintings.
Every trip proves what we have known and have been saying over a period of time, that Russian Art is coming into its own. The value and respect of the artist is gaining everyday. This should make you proud of your purchase, or if you have not made that purchase yet, you should get on-board. The ownership of one of these paintings, be it a fragment, a sketch or a master-piece is certainly a pride worth having. The enjoyment of being a part of this movement to bring this wonderful art into light and the personal pleasure of looking at it everyday is something you should treasure.
We will have some wonderful news to share with you in a very short time now. This is something we have worked on for sometime and was the main focus of this trip. I will not give it away just yet, because of time delays un-foreseen. We promise to disclose as soon as we get the green light!
Every trip we make, we try to come up with ways to make the train rides more comfortable. About 3:00 in the morning, as I was sitting up to ease the pains on all the pressure points of the body, it came to me, a blow-up air float. Maybe this is the answer, I will let you know after our next trip, and we try it out. We might just have something here.
During these tough economic times, it is so good to be able to look at these paintings and see the hardships of the times they were painted in, and see the beauty and soul that came out of that period. This reminds us of how we all with God's grace will come through just fine.
L.P. & Dianne (May 14, 2009)


See previous News & Events in our Archives