Lev Semenovich Blyaknitsky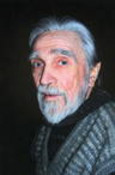 Lev Semenovich Blyaknitsky was born in 1926 in the village of Palkino of the Kostroma region. In 1942 he began the study of Russian painting in the craft school and worked in the war factory. From 1943 to 1950 Lev S. Blyaknitsky was involved in the volunteer war effort and a participant in the battle of Asia. He was given the Order of the Great patrotic War Medal for Victory of Japan, and the medal For Liberation of Korea, the medal of georgy Zhukov.

In 1956 he graduated from the Kostroma Art College.
In 1958 he moved to Belgorod.
In 1959 he organized the House of Creative People Art Studio.
In 1960 he became a member of Regional Exhibitions.
In 1963 he became a member of the committee for creating the Union of Artists in Belgorod.
1999-2006- Exhibitions, "Protectors of Fatherland Devoted"; Exhibition of 2000, From "Birth of Jesus Christ"; 60 years exhibition, Battle of Victory in the Kursk Battle"
"Great fatherland War"; Second All Russian exhibition, 300 Years of St. Ioasaf, Belgorod.
2006- Memory, Personal Exhibition, 80 Years from birth, Belgorod Art Museum.
1968, became a member of United Artists of USSR.
1968-85 Kursk Medal Anomaly Org.
1971-74. Work in the creative groups in the House of Creativity "Academic Dacha".
1969-1991-Member of zonal exhibitions "Krai Chernozyomny" "Land of Black Soil" in Voronezh, Kursk, Orel, Bryansk, Tula.
1986-1994- Exhibitions, "Artists of Belgorod" , Opol and Moscow, Hern, Poland and Germany.
1987- Republic Exhibition, "Blue Roads of Russia" Moscow
1990-All Union Exhibition "Soviet Russia", Moscow.
1994-Group Exhibition "Blyaknitsky-Vasilenko", Belgorod.
1994-2001 Personal exhibitions in Belgorod, Stary Oskol, Gubkin.
1995- "50 Years of Victory" Exhibition, Belgorod, Diplon prize.
1998-30 Year Exhibition of Belgorod Union of Artist.
Lev Semenovich Blyaknitsky still lives in Belgorod, Russia with his family. Due to poor health he no longer paints.
Zvonnitsa (Russian Bells)
Oil on canvas
Date: 2002
Size: 31.5" x 29"
Signature in Cyrillic lower right corner
THIS ITEM HAS BEEN SOLD
Please contact our Gallery for additional
information about this artist.