Kseniya N. Uspenskaya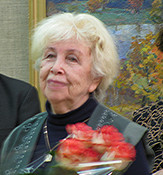 Kseniya Nickolaevna Uspenskaya was born in Voronezh, Russia in 1922. From 1939 until the onset of the great Patriotic War in 1941 she studied under the tutelage of A. A. Buchkuri, one of the best known artists and teachers of the Voronezh region. In 1942 Buchkuri and his wife were mortally wounded fleeing the German invasion. At the end of the war Kseniya moved to Moscow and studied until 1949 at the Moscow Institute of Applied Arts and Crafts where she graduated with honors.

In 1950 she moved back to Voronezh where she was soon accepted into the Artists Union. By 1955 she was regularly invited to participate in all regional and all republican shows sponsored by the Artists Union of the USSR. Kseniya has always been known for her portraits of children. Many of her paintings are sold in London and Paris. Her works are found in many collections in the USA. She still lives and works in Voronezh and manages the museum works of her late husband, Vasily Krivoruchko, who died in 1904. Vasily and Kseniya were quite privileged and were able to travel abroad even during communist times. Very few artists were fortunate enough to be able to do this.

I made this photo of Kseniya that is shown on this page at her personal exhibition in March 2008, celebrating her 86th birthday.
"Krivoruchko in Arkhipovka"
Oil on Card
Date: 1960
Size: 13.25" x 13.75"
Signed in cyrillic on reverse.
Please contact our Gallery for additional
information about this artist.