Kamil Kurbanovich Safargaleev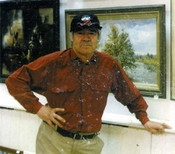 Kamil K. Safargaleev was born in 1928 in the city of Astrakhan. He began his artistic education in the Kazan Art School in 1946-1949. Among the three best graduates he received an invitation to Higher School. In 1949 he entered the Latvian Academy of Arts, which he graduated from with honors in 1955.

Kamil K. Safargaleev became a member of the USSR Artists' Union in 1956. His works were successfully presented at Regional, Zonal, Republican and International exhibitions. For many years he painted hundreds of genre paintings, portraits, landscapes and still life paintings.

Kamil K. Safargaleev being a talented colorist held the leading position in the Astrakhan fine arts.

The artist left a rich legacy, his artworks are in museums and private collections in Russia, Latvia, Lithuania, Ukraine, Byelorussia, Kazakhstan, Azerbaijan, Turkmenia, Uzbekistan, France, Germany, Hungry, Yugoslavia, Poland, Austria, Bulgaria, South Korea, Finland, Sweeden, and the USA.
Please contact our Gallery for additional
information about this artist.