Vladimir I. Shedrin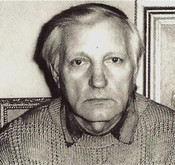 Vladimir Shedrin was born in 1942 in Voronezh, Russia. He attended the Art College in Penza, one of the more influential of the provincial schools not located in one of the capitol cities of Moscow or St Petersburg. Vladimir Shedrin has always been primarily a landscape painter. Most of his works are executed plein air, he rarely works in his studio - even to finish a piece started on site. This explains the vibrant colors and light in his canvases. He is highly regarded in the USA as a master of color perception.

Vladimir Shedrin has exhibited in France and Germany as well as the USA.

Vladimir Shedrin is a member of the Voronezh Union of Artists and regularly exhibits in Moscow and Voronezh and other regions around Russia. Several of his works are permanently in exhibition in the Kromskoi Museum in Voronezh and the Fine Arts Museum in Penza, Russia.
"Spring Flood"
Date: 1968
Size: 31" x 22"
Oil on card
Signature in Cyrillic lower right and reverse
Please contact our Gallery for additional
information about this artist.