Viktor S. Sorokin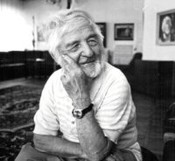 Viktor S. Sorokin was born in Moscow 1912. Studied in art studio of Dzerzhinski Commune, Lyubertsy, Moscow reg ; at Moscow ART INSTITUTE 1936-1946, Victor S Sorokin was active in Elets,Lipetsk reg; 1948-58; Lipetsk from 1958. Victor S Sorokin participated in important shows which include "All Union Art Exhibition", Moscow, 1946; "SOVIET RUSSIA" , Moscow , 1960.

императорская академия художеств
основана в 1757 году

РОССИЙСКАЯ АКАДЕМИЯ ХУДОЖЕСТВ
RUSSIAN ACADEMY OF ARTS


19.07.2012

Exhibition of Works by the People's Artist of Russia Victor Sorokin (1912-2001) at the Russian Academy of Arts: In Honor of the 100th Anniversary of the Master

Date: 19.07.2012 - 30.07.2012

Place: Exhibition halls of the Russian Academy of Arts 21 Prechistenka street, Moscow

The exhibition features more than 100 canvases of the People's Artist of Russia Victor Sorokin (1912-2001). It has been organized by the Russian Academy of Arts in partnership with the Department of Culture and Art of the Lipetsk Region, Lipetsk Regional Picture Gallery and V.S. Sorokin Art Museum in Lipetsk to mark the 100th birth anniversary of the painter.

Victor Sorokin was born in Moscow. In 1945 he graduated from V. Surikov Moscow State Art Institute where his teachers were noted Russian artists Igor Grabar, Sergey Gerasimov, Alexander Osmerkin whose work was distinguished by an organic combination of Russian art traditions and achievements of European impressionists and modern art.

In 1948 Victor Sorokin left Moscow for Lipetsk to preserve his freedom of self-expression as he did not want to make a compromise with the official art. He worked and lived in Lipetsk till his death in 2001 and was an Honorary Citizen of the city of Lipetsk. In 1992 for recognition of his significant contribution to the promotion of Russian art and in honor of his 80th anniversary the Lipetsk authorities granted the artist a mansion in the center of the city for establishing Victor Sorokin Museum and Studio.

For several generations of artists Victor Sorokin was an example of creative freedom and adherence to his principles. He was honored with many state orders and awards.
"Landscape"
Oil on canvas on board
Date: 1995
Size: 10.5" x 6.5"
Signature in cyrillic lower right corner
Please contact our Gallery for additional
information about this artist.