Mikhail Ivanovich Likhachev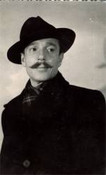 Mikhail I. Likhachev was born in 1919 near Voronezh, Russia. His education began at the Voronezh Art College until he entered the Red Army serving during WWII. After the war he went to Moscow where he studied in the studio of Boris Ioganson.

Mikhail I. Likhachev became a member of the Artist's Union of Russia and participated in many exhibitions during his career of Russian Paintings.

Mikhail I. Likachev's paintings can be seen throughout Russia and abroad in Museums and private collections in the USA. His Historical drawings and studies are evidence of his love for the ordinary people and their lives, depicting many aspects of daily living and culture.

Mikhail I. Likachev was one of the beginning founders of the Voronezh Artist's Union. His control in the Artist's Union made it difficult to become a member, his criteria was strict.

Mikhail I. Likhachev's important shows include the All Union Art Exhibition in Moscow, 1949: All Union Art Exhibition, Moscow 1951: All Union Art Exhibition Moscow, 1955: Soviet Russia, Moscow, 1960.

In 1999 Mikhail I. Likhachev's work was honored by the Kromskoi Museum in Voronezh. These works depicted the history of the City and the Voronezh Region.

Mikhail I. Likhachev died in 1997.

"Likhachev's Mother"
Date: 1953
Size: 17" x 19"
Oil on Card
"Winter Day"
Oil on Canvas
Date: 1960
Size: 54" x 63"
"Declaration"
Oil on canvas
Date: 1965
Size: 21" x 31.75"
Signed in cyrillic lower left corner
Framed
Please contact our Gallery for additional
information about this artist.