Leonid I. Rudnev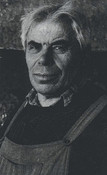 Leonid I. Rudnev was born in June 1938 in a small village in the Kursk Region of Russia. His love and studies of Russian Art painting began at an early age and he graduated from the Kursk Painting and Graphics Teaching School in 1957. In 1963 Leonid I. Rudnev graduated from the Kharkov Institute of Arts. In 1968 he was accepted into the Russian Artist's Union.

Since 1968, Leonid I. Rudnev has participated in all Republican exhibitions as well as Soviet republics and Zonal exhibitions by invitation only. Leonid I. Rudnev has been awarded prizes from the Russian Academy of Fine Arts, the Ministry of Culture of the USSR and a Gold Medal for his entry in the exhibition that celebrated the 100th birthday of Vladimir I. Lenin.

Leonid I. Rudnev has had nine works published in major Russian art books and magazines. His most famous commission came from the Brezhnev administration when they commissioned him to paint the childhood home of then President Leonid Brezhnev . The painting is in the permanent collection of artworks commissioned for the Kremlin.

Leonid I. Rudnev's works are in private collections throught Europe and the USA.
He continues to live and work in Kursk and also teaches privately.
"Autumn In Maryino, Kursk"
Date: 1999
Size: 45.25" x 35"
Oil on Canvas
Signature in Cyrillic lower right and inscribed reverse.
Framed
"The High Winds Have Passed"
Oil on Canvas
Date: 1992
Size: 22" x 20.5"
Signed in cyrillic lower right corner
"A Working Weekday"
Oil on Canvas
Date: 1970
Size: 47.25" x 47.25"
Signed in cyrillic lower right corner
Please contact our Gallery for additional
information about this artist.