Grigori E. Kharin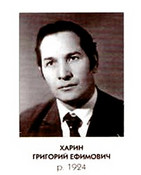 Grigori E. Kharin was born in 1924 to a peasant family in the village of Lozovka, in the Kuybyshev region of Russia. Since the age of ten he dreamed of becoming a painter but when the Soviet Union entered World War II in 1941, he voluntarily enlisted in the army. His division marched from Moscow to Konigsberg, Eastern Prussia, and in that time he earned two orders and three medals for his participation in battle.

In 1949, he started taking painting classes in the Art Studio of Palace of Culture in the city of Ufa, Russia. While working full time at the Ufa Engine factory, he devoted every free minute to art and self education. Still not satisfied, Kharin took correspondence courses at the People's University of Art and finally earned an academic degree.

Kharin's first success did not come until 1963. In a two year period, he took part in national and international exhibitions with his major work, "My City", "The Ural Mountains", and "Bullfinches". In that time he was able to travel widely, get advice from other experienced artists and most importantly develop a personal style in his motifs, colors and lines. Snow covered mountains, newly built citits, blooming trees, and drifting ice became his favorite subjects. In 1971, Kharin finally began showing his art in personal exhibitions throughout the country. His years of experience had allowed him to perfect his style which is reflected in many of his works.

Grigori E. Kharin died in 2005.
Please contact our Gallery for additional
information about this artist.