Gennadi Vasilevich Ogorodov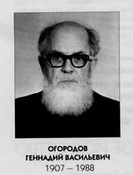 The art of Gennadi Vasilevich Ogorodov seems almost forgotten. It has been about twenty years since his paintings were last displayed publicly and his last personal exhibition took place in 1989, one year after his death.

Ogorodov preferred to paint landscapes and portraits of people who were close to him. As an Old school realist, he used true to life colors and images. In his portraits, he surrounded his subjects with objects and scenes that reflected the time the portrait was painted, which makes them very easy to date. For instance, in 1947 in a self-portrait he portrayed himself wearing a military uniform with an order of the Red Star and Guard badge, truly reflecting the atmosphere of the post-war years. And as a landscape painter, he continued the traditions of Russian landscape painting school of the second part of the 19th century.

Besides his art, Ogorodov was actively involved in his community as a teacher and cultural leader. In 1927 he became the first chairman of Ufa's Art Society and in 1937, the first Secretary of the Union of the Soviet Artists. After World War II, Ogorodov returned to Ufa and began supervising and teaching at the "People's Studio" in the city's Palace of Culture. He left a lasting impact on the Studio, and many of its contemporary graduates now reside and work all over Russia.
Please contact our Gallery for additional
information about this artist.