Evgeni Borisovich Khoroshilov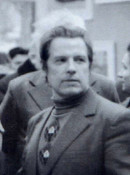 Evgeni Borisovich Khoroshilov was born in 1930 in Voronezh, Russia. His study of formal Russian Art from 1948 through 1953 at the Orel Art College in Elets, an ancient city seventy five miles north of Voronezh led him in 1953 to Leningrad (St. Petersburg), there he studied until 1954 at the Leningrad Higher Arts and Crafts College. After graduation from the college he was accepted into the Repin Institute, the highest level of art study in Russia. He graduated from the Institute in 1960 and moved back to Voronezh.

Soon after settling back in Voronezh Evgeni Borisovich Khoroshilov was accepted into the Voronezh Artist's Union. He was well received and on his way to a brilliant career when he came under scrutiny from the committee of artists who determined, more or less, who would move ahead and who wouldn't. Evgeni Borisovich Khoroshilov was so gifted at portraiture that most artists gave up and let him have the portrait commissions. Not only was he exceptionally talented, but a fast worker as well. Until his return to Voronezh Mikhail Likachev had been the top portrait painter. Mikhail Likachev was a party man and Khoroshilov wasn't, so Evgeni began to get fewer and fewer commissions. Nevertheless, he was able to complete several major works that now hang in the Kromskoi Museum in Voronezh. Near the end of his life, which was cut short by the effects of alcohol, Evgeni began to experiment with political themes that went against the communist machine. These works were kept hidden until the fall of the Iron Curtain. Over the past few years his widow has very cautiously brought these works into the public.

Evgeni Borisovich Khoroshilov's works are in several galleries and collections in France, Italy, and the USA. Khoroshilov died in 1980.
"Baikal Fisherman"
Charcoal on paper
Date: 1959
Size: 16" x 22.5"
Signature in cyrillic lower right corner
"Children of Baikal"
Oil on Board
Date: 1959
Size: 13.25" x 18.5"
Signed in cyrillic on reverse
"White Night"
Oil on Canvas
Size: 39.25" x 24.5"
Date: 1955
Signature in cyrillic lower left corner
Please contact our Gallery for additional
information about this artist.