Alexander Kurzanov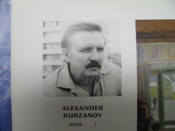 Alexander Kurzanov was born in 1938, in Voronezh, Russia. He studied painting at the Moscow University of Art from 1957 to 1960. Alexander continued his studies from 1960-to 1965 in Ryazan and in 1972 graduated from the Academy of Art in Tbilisi, Georgia.

Although he paints striking landscapes of the Voronezh region where he lives, he is also known for historical and political paintings as well as portraits of elderly people.

Since 1973, Alexander Kurzanov has participated in regional, republic, and national exhibitions. He has exhibited in Czechoslovakia, England, France, Germany, and Spain and his paintings are in the collections of the Russian Ministry of Culture, the Russian Artists' Union and museums of art in several Russian cities. Numerous portraits and still lifes by Kurzanov are in the Voronezh Kramskoi Museum of Art.
Please contact our Gallery for additional
information about this artist.