Aleksei P. Davydov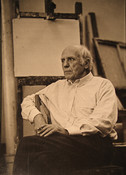 Aleksei Pavlovich Davydov was born in Bolshoi Samovets, Voronezh in 1934. His love for art and painting led him to the Art College in Penza where he studied the art of Russian painting until 1959. He was active in Voronezh and began exhibiting his paintings in 1964.
"Woman Knitting"
Oil on Card
Date: 1954
Size: 14" x 17.5"
Signature in Cyrillic on reverse
Please contact our Gallery for additional
information about this artist.